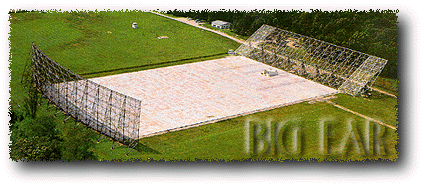 Aerial Photograph of the Former "Big Ear" Radio Telescope.
This radio telescope was located a few miles north of Columbus, Ohio and just south of the city of Delaware, Ohio. It was destroyed by land developers in 1998 in order to expand a 9-hole golf course into an 18-hole course and to build hundreds of houses.
See Hot Spot Instructions Again.
Go Back to Design & Construction Menu.
Go Back to Home Page.


© 2001-2005 Ohio State University Radio Observatory & North American AstroPhysical Observatory.
Last modified: August 13, 2005