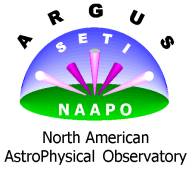 Displays Honoring the "Big Ear" Radio Telescope
The Ohio State University Radio Observatory (also known as the Big Ear Radio Observatory) became well known for its unique radio telescope (the "Big Ear") and the discoveries made with that instrument.

Three facilities in Ohio have created displays to memorialize that radio telescope and its discoveries:
(1) Perkins Observatory, located just south of the city of Delaware, Ohio;
(2) Neil Armstrong Air & Space Museum, located in Wapakoneta, Ohio; and
(3) Ohio Historical Center, in Columbus, Ohio.

From the "DISPLAYS MENU" below, you may link to a section of this website describing the "Big Ear" display at each of the above facilities.
HOME | FEEDBACK
Copyright © 2003-2004 Ohio State University Radio Observatory and North American AstroPhysical Observatory.
Designed by Jerry Ehman.
Last modified: August 10, 2004.